>
ITA Tennis Homepage
>
About ITA
>
News
>
Defending champion Duke ousted on day one of ITA National Women's Team Indoor Championship

Defending champion Duke ousted on day one of ITA National Women's Team Indoor Championship
Miami (FL) knocks out No. 6 seed Alabama
Main Draw | Event Page | Consolation Matches
Complete Results | Photo Album
CHARLOTTESVILLE, VA (Feb. 6) - TCU spoiled Duke's title defense dreams on day one of the 2015 ITA Division I National Women's Team Indoor Championship, hosted by the University of Virginia at the Boar's Head Sports Club, defeating the Blue Devils 4-3 in the first round. Miami (FL) also took down a seeded opponent, topping sixth-seeded Alabama 4-1.
Miami (FL) 4, (6) Alabama 1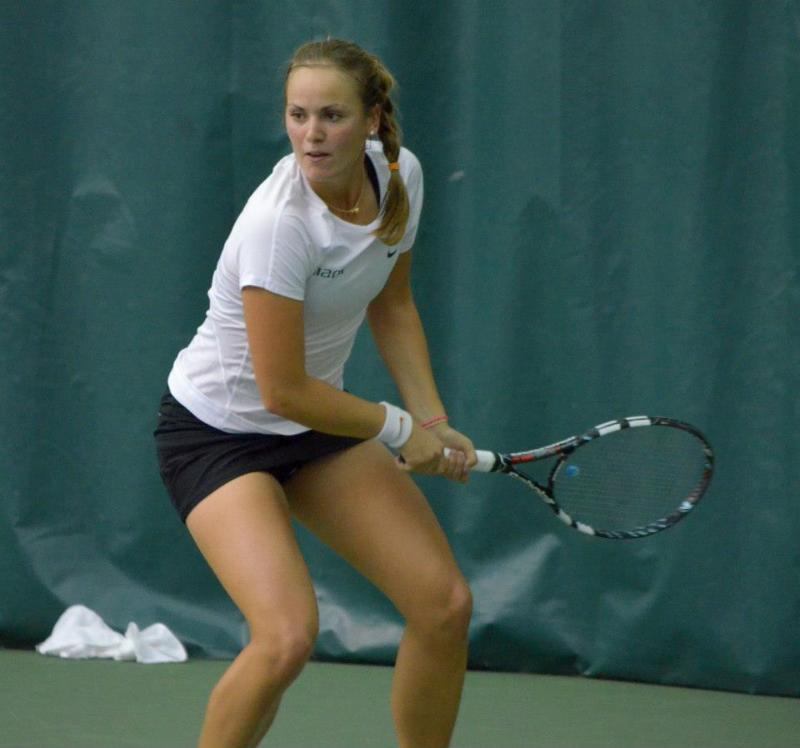 Stephanie Wagner, Miami (FL)
The Hurricanes pulled the first upset of the day, earning 4-1 win over the Crimson Tide after racing out to a 3-0 lead. After splitting the top two doubles matches, the Miami third doubles team was broken twice serving for the match. They kept their cool, claiming the tiebreak and the doubles point. After winning two quick singles matches and holding a 3-0 lead for an extended period of time, Monique Albuquerque clinched the match at sixth singles by winning five straight games in the third set of a 2-6, 6-2, 6-4 win.
"To have our two freshmen clinch doubles is big," Miami head coach Paige Yaroshuk-Tews said. "I haven't been coaching a long time, but to see a freshman look over at me and smile when the deciding match came down to her is a good sign. I'm really proud of the freshmen and the upperclassmen staying out there and getting the job done."
(3) North Carolina 5, Oklahoma State 1
No. 3 seed North Carolina earned the first victory of the tournament in a 5-1 defeat of Oklahoma State. The Tar Heels made quick work of the doubles point, taking 6-1 sets at both second and third doubles. Jamie Loeb quickly followed up at first singles with a 6-2, 6-1 win over Oklahoma State's No. 10 nationally-ranked singles player, Viktoriya Lushkova. Cowgirl Vladica Babic saved the Pokes from a shutout soon after with a 6-4, 6-1 win over Whitney Kay at fourth singles, but it was not enough as North Carolina reeled off straight-set wins at fifth, third and sixth singles to take the match and advance into a quarterfinal matchup with Miami (FL).
North Carolina coach Brian Kalbas was pleased with his team's fast start. "Oklahoma State is a very talented team and they're very good throughout their lineup, so it was very exciting for us to get through," Kalbas said. "It's a quick turnaround, but if we can play as composed as we did today and start off as well as we did in doubles and singles, we'll be in good shape."
(5) California 4, Vanderbilt 3
Vanderbilt had No. 5 seed California on the ropes early, and the tension began with a dramatic conclusion to the doubles point. After splitting second and third doubles with California, Vanderbilt prevailed 7-4 in a tiebreaker at first doubles to take a 1-0 lead. California head coach Amanda Augustus said it took some time for the Golden Bears to get in a rhythm. "Vanderbilt winning the doubles point definitely gave them an emotional lift and they came out ready to go," she said. "We had to really work and battle and figure out what needed to be done."
Vanderbilt took a 3-0 lead with straight-set wins at fourth and fifth singles, but the Bears clawed back with wins of their own at third and first singles, the latter being a three-setter in which Cal's Maegan Manasse had dropped the first set before winning the next two handily, 4-6, 6-0, 6-3. Klara Fabikova won next at second singles to even the match score at 3-3, leaving the decision in the hands of senior Cecilia Estlander at sixth singles. After losing the first set 6-0, Estlander stormed back to win 0-6, 6-3, 6-1, giving California life in tomorrow's quarterfinals. "I'm just so pleased because [Estlander] just didn't play her best in doubles either," Augustus said. "To just hang in there and not give up on herself, and figure a way out of this match and clinch it for the team, I'm just really, really proud of her and the whole team."
TCU celebrates after Alexis Pereira clinches the upset
TCU 4, (4) Duke 3
The Horned Frogs proved their upset win over Texas A&M at the ITA Kick-Off Weekend was no fluke, taking down their second Top 15 opponent of the season in the defending champion Blue Devils. After helping clinch the doubles point, Duke's No. 1 singles player, Beatrice Capra, was pulled from the singles lineup. TCU claimed the first three singles matches to gain a 3-1 edge, but Duke fought their way back to 3-all by claiming matches at fifth and first singles. Freshman Alexis Pereira clinched the win at sixth singles, winning 6-3, 5-7, 6-4. TCU will take on California in the quarterfinals.
"We've talked all along about how if we wanted to be a really good team, then ultimately you need to take points away from your opponents," TCU head coach Lee Taylor Walker said. "That's a philosophy we have. I was so proud of Alexis because in that pressure situation, you're going to have to take it. So expect yourself to take it, pull the trigger and don't be afraid. I was proud of her for even doing that, much less her actually executing."
(8) Georgia 4, Michigan 1
Eighth-seeded Georgia took down the Michigan Wolverines 4-1 in what Georgia head coach Jeff Wallace called a great win. "Michigan's got a great team, we knew it was going to be a good fight," Wallace said. Georgia won steadily at third doubles (6-1) and second doubles (6-4) to take the doubles point, and Caroline Brinson won at fifth singles for a 2-0 lead. Michigan won its point at fourth singles when freshman Alex Najarian took down Georgia's two-time ITA All-American Silvia Garcia, 6-2, 6-2, but the Bulldogs would prevail at first and third singles to secure the 4-1 win.
Wallace was pleased with the way his team has come together as a group. "We do have a lot of young players, one senior and a couple juniors," he said. "Our freshman are really doing a good job, they're learning a lot, we've played a strong schedule and I think it's been good for us. I really like how we've learned and how we're applying things that we've learned. That's what you want to do at a national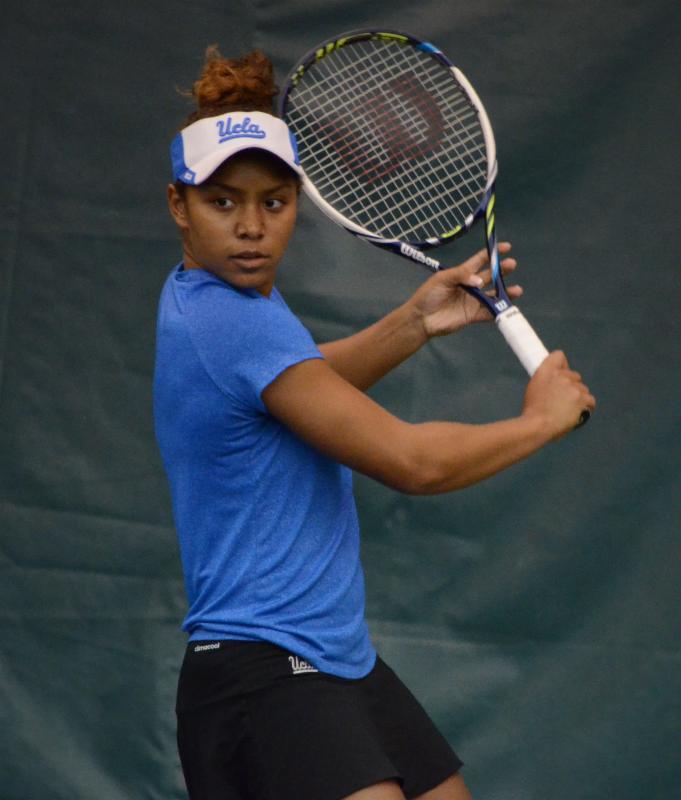 championship tournament." Three freshman started for the Bulldogs on day one. Up next is top-seeded UCLA in the quarterfinals.
(1) UCLA 4, Kentucky 0

UCLA, last year's runner-up, made quick work of Kentucky in their first-round match. No. 2 Robin Anderson, doubles teammate Terri Fleming and Kyle McPhillips followed up doubles wins with straight-set singles wins to give the Bruins a 4-0 triumph. Though the Wildcats didn't get on the scoreboard, UCLA head coach Stella Sampras Webster was very impressed by her opponents.
"Kentucky made us work," Sampras Webster said. "It was a great match for us because we don't ever get to see them. They play really aggressive doubles, so it was something that we don't see a whole lot of. I really love their style of doubles. We had to make some adjustments. It was good to see our team able to do that."
Danielle Collins, Virginia
(7) Virginia 4, USC 2
The Cavaliers won their first main draw match at this event since their first year hosting back in 2011, defeating USC 4-2. Virginia head coach Mark Guilbeau cited his team's Monday match with Georgia as a great instrument in the Cavaliers inspired doubles play. After claiming the doubles point, veterans Julia Elbaba (No. 1 in ITA Rankings), No. 42 Danielle Collins and No. 16 Stephanie Nauta notched wins at the top three spots to earn the win for Virginia. The Cavaliers will face No. 2 seed Florida in the next round.
"Watching all of the matches today, outside of our match even, the level was remarkable," Guilbeau said. "There was some really good tennis across the board. Our match was extremely high-level. This was not a match that was lost by anyone, it was a match that was won. I'm fortunate that our kids stepped up and did the winning."
(2) Florida 4, Clemson 3
The thriller of the night was saved for the last match between Florida and Clemson, in what was as near an upset as possible as second-seeded Florida held on to win 4-3. It was a topsy-turvy affair after Clemson won the doubles point and held a 2-0 lead, but Florida drew back and evened the score at 3-3 by winning three-setters after losing first sets at both first and second. Tied at 3-3, both Clemson's and Florida's rosters gathered to watch Belinda Woolcock of Florida battle Clemson's Tristen Dewar in a decisive third set on court four.
The two players traded 6-4 sets to line up a third set which would eventually lead to a tie-break. Once there, it seemed the Gator Woolcock had it all sewn up when she took a 6-1 lead. However, Clemson's Dewar rallied and saved five straight match points to even the score at 6-all. "I told my players I've been around this game 30 years, and I've never seen a player lose a 6-1 tiebreak lead and subsequently win the match," Thornqvist said, but his player did just that. Woolcock won the next two points for an 8-6 third set tie-break win and Florida advanced to the quarterfinals by the slimmest of margins. "Now we're in the tournament," Thornqvist said. "We really got shook up. Clemson's a great team and we were on our back foot the whole day. We got a little lucky at the end but sometimes that's what it takes, and we were fortunate to advance today."
For complete coverage of the 2015 ITA Division I National Women's Team Indoor Championship, including access to draws, live scores and more, please visit the official ITA event page. Follow the ITA on Twitter, @ITAtennis, or like the ITA Facebook page for updates and news from Charlottesville. Use the hashtag #ITAIndoors for all tweets about the event, and search the term "ITAIndoors" to find others who are tweeting about the event.
About the ITA Division I National Women's Team Indoor Championship
The ITA Division I National Women's Team Indoor Championships is held annually each February and has been held since 1988. The tournament features 16 participating teams: the 15 schools who won both of their matches during the 2015 ITA Kick-Off Weekend and the host school. The tournament is held over four days, and begins on Friday with first round play, followed by quarterfinals on Saturday, semifinals on Sunday and the final on Monday. This year's championship will be hosted by the University of Virginia at the Boar's Head Sports Club in Charlottesville, Virginia from February 6-9. The defending women's champion is Duke University.
About the Boar's Head Sports Club
The 2015 ITA Women's National Team Indoor Championship will be held at the sports facility of The Boar's Head, recognized as a top 50 tennis resort in the United Stated by Tennis Magazine. The Boar's Head was also named the 2008 Private Facility of the Year by Racquet Sports Industry Magazine, while also receiving recognition from TennisResorts.com as one of the top 75 tennis resorts in the world. The facility contains a total of 26 courts: 10 Har-Tru outdoor courts, four outdoor hard courts, and 12 state-of-the-art DecoTurf indoor courts.