ITA Honors 2015 ITA National College Players of the Year
Dave Fish (Harvard) also recognized as ITA Meritorious Service Award winner
NEWPORT, RI (July 21) - UCLA's Robin Anderson and Oklahoma's Axel Alvarez Llamas were honored as the 2015 ITA National College Players of the Year over the weekend as part of the Rolex Hall of Fame Enshrinement Weekend at the International Tennis Hall of Fame in Newport, RI.
Left to right: Dave Fish, Doug Conant and David Benjamin
Oklahoma assistant men's tennis coach Bobby Reynolds (pictured, top) accepted on behalf of Alvarez Llamas, who was unable to attend. Harvard men's tennis coach Dave Fish was also honored for winning the 2014 ITA Meritorious Service Award, presented by ConantLeadership. The ceremony took place on Saturday, July 18 at a special awards luncheon immediately prior to the 2015 International Tennis Hall of Fame Enshrinement Ceremony.
Robin Anderson (UCLA, Sr.): Anderson posted a 27-3 singles record this season and was champion of the Riviera/ITA Women's All-American Championships in the fall. Ranked No. 2 in the Oracle/ITA Preseason Rankings, Anderson ultimately finished the year ranked No. 1, and also previously achieved the No. 1 doubles ranking during her junior season. Anderson compiled seven ITA All-American honors (four singles, three doubles) over her four seasons with the Bruins, during which she was also champion of the USTA/ITA Southwest Regional Singles and Doubles Championships, the USTA/ITA National Indoor Intercollegiate Singles Championship, and was MVP of UCLA's 2014 NCAA Championship team. The team captain registered over 200 combined win during her collegiate career, with a singles record of 127-15 and a 100-39 mark in doubles. Anderson leaves UCLA as one of the most accomplished tennis players of all time.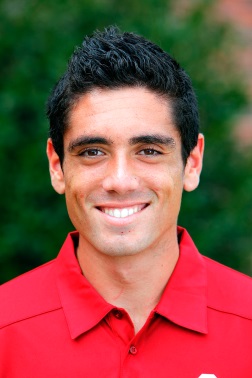 Axel Alvarez Llamas (Oklahoma, Jr.): Alvarez Llamas finished the season ranked No. 1 in the Oracle/ITA Division I National Men's Singles Rankings. He began his junior campaign in the fall by winning a second consecutive USTA/ITA Central Regional Singles Championship, and he later advanced to the quarterfinals of the USTA/ITA National Indoor Intercollegiate Championship. In the spring, Alvarez Llamas strung together 23 straight dual-match victories in singles while helping his team carry the No. 1 overall ranking for much of the season. He contributed two points to Oklahoma's 4-2 win over USC in the 2015 ITA Division I National Men's Team Indoor Championship, the program's first ever National Championship title. Alvarez Llamas finished the season 39-6 in singles and also earned the No. 8 doubles ranking with partner Dane Webb.

​
Dave Fish (Scott Mead '77 Head Coach for Harvard Men's Tennis): Fish became the head tennis coach of his alma mater in 1976 and has compiled a 645-292-1 record to become the winningest men's tennis coach in Harvard history. He has been a steadfast contributor to college tennis, taking on roles with the ITA Board of Directors, ITA Division I Operating Committee and the NCAA Division I Tennis Committee beginning in the early 1990's. Fish's most recent initiative has been Universal Tennis Rating, UTR for short, which serves as a pivotal leverage point for improving American tennis. UTR is an advanced 16-level player rating system that provides tennis players worldwide with a common language for accurately and objectively identifying their own levels of play.
About ConantLeadership
ITHF board member, Doug Conant, founded ConantLeadership with its mission of championing leadership that works in the 21st century. The company provides experienced perspectives demanding an understanding of both enduring leadership principles and high-impact leadership practices for delivery of consistently superior outcomes. More information can be found on Twitter at @DougConant and at conantleadership.com.
About the ITA
The Intercollegiate Tennis Association (ITA) is the governing body of college tennis, overseeing men's and women's varsity tennis at NCAA Divisions I, II and III, NAIA and Junior/Community College. The ITA administers a comprehensive awards and rankings program for men's and women's varsity players, coaches and teams in all divisions, providing recognition for their accomplishments on and off the court. For more information on the ITA, visit the ITA website at www.itatennis.com, like the ITA on Facebook or follow @ITAtennis on Twitter.